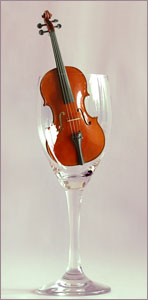 His instruments illustrate the characteristics of Mittenwald hillside winegrowing and of refinement in French workshops. Their strict and disciplined design is based on the Mittenwald flair, their originality and personality on contemporary French violin making.
The varnish ranges from beautiful deep copper-orange to warm reddish brown shades. 

Flattering and generous sound. Well-balanced and harmonious composition with ample scope.
Powerful but not containing too much tannin.
Although these instruments are immediately playable their sound qualities will develop for more than 200 years. However, we dissuade from cellarage! 

Bodo Vosshenrich's instruments are in excellent harmony with students' and professionals' careers and they display their sound in chamber music, orchestras or with soloists. 
Besides the classic wine varieties like "Stradivari" and "Guarneri", Mr. Vosshenrich also offers some quite special personal blends, such as the "jazz violin" and "horned violin".

All his classical instruments are available in a modern look, with full or slightly rubbed out varnish, or in antique style, with crackled, worn out and chipped varnish, scratches and patina. In any case, the antiquing is limited to the varnish. Should you have any questions as to the varnish colour, special requests concerning the wood or even your personal favourite model you would like me to build for you, just let me know !


Violon après Antonio Stradivari 
This model was inspired by the 1716 Medici-Strad, from the golden period. It has got a beautiful warm sound and is extremely responsive.
Guiseppe Guarneri 'del Gesù' violin
Rather than being an exact copy of any one del Gesù violin, this model is a personalised mixture of several of his typical features. The sound is somewhat more masculine than that of the Stradivarius model and has great expressive power.
Andrea Guarneri viola
In Europe, this 41,5 cm 'Conte Vitali' viola model is one of the most frequently built. It combines great beauty with ideal dimensions and a mellow, powerful sound from the C to the highest notes on the A-string. I slightly modified the f-holes and the scroll from the original.
Domenico Montagnana cello
This cello model is inspired by the "Feuermann" from 1735, with a slightly lengthened body. It is broad without being square and the sound is deep, impressive, yet focussed. With its large body and massive thickness, it's virtually impossible to saturate.