Violin making is not only about construction, but also about restoration of bowed instruments. Every now and then I buy and restore instruments I like, from small size "medio fino" Mirecourt instruments to signed master instruments sold with certificate (made by an approved expert).
In general, I sell the instruments rather below the going price. In my opinion (and I'm not alone!) the cash value of vintage instruments is over-evaluated far too often as a consequence of speculation.
Here you'll find what I have currently available in my workshop. For price information, please send me an e-mail or give me a call !

VIOLINS

Nice student's violon of probable German origin. It could be French, though. It speaks both languages fluently.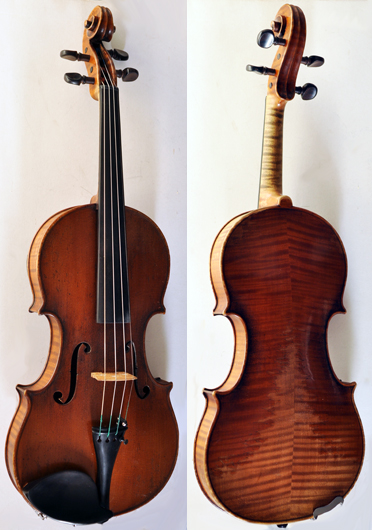 Labeled "copie de Stradivarius 1721", this violin is in near perfect condition, just a small repaired f-hole crack on the treble side.
The sound is well balanced, powerful and rather clear, as you would expect from this rather small-breasted interpretation of the often copied "Stradivari 1721".
This violin was played by a young virtuoso who has won an international competition on it, until he changed it for one of my Strad 2.0.
(So if you have the budget, consider buying a Strad 2.0 right away…)

Violin 4/4 labeled "Violmaster", model Amati "Solist", Hong Kong 2004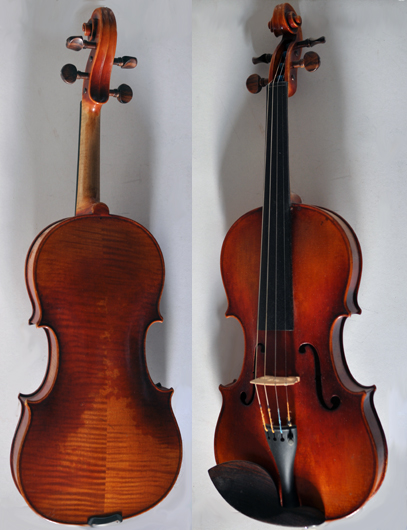 Attention ! A Chinese violin can dissimulate a German one !
The Hong Kong brand "Violmaster" was in fact created at the end of the 80ies by a German master violin maker (who's name I lost on google). That was well before the international market was swept by millions of Chinese instruments which were in the beginning of poor quality.
So here we rather have a modern German violin, manufactured in Hong Kong, and distributed internationally.
as the label suggests, this one is a "soloist", so rather high quality.
This rather modern interpretation of the Amati model with full and rather high archings, gives this violin a warm and silky sound, which does not lack power whatsover.
Violin of the Légato range (click the link for more information)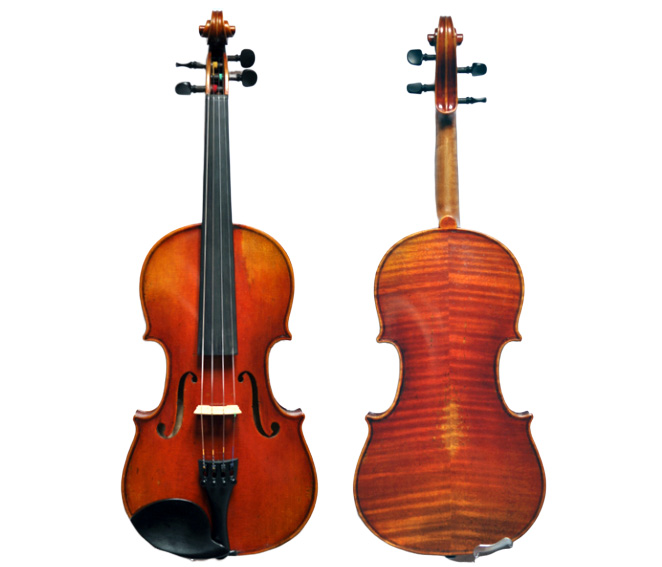 Violin of my own making, Verfeil near Toulouse 2006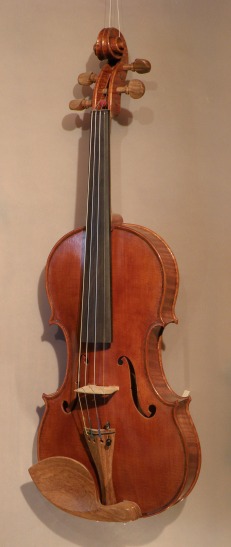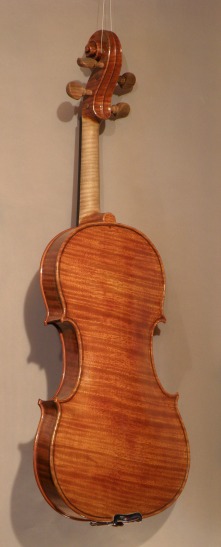 Inspired by the famous "Cannon" by Guarneri del Gesù and made from wood of the finest quality from the 1940s.
The sound is clear and powerful. The thickness of the plates being inspired by the original, this instrument needs to be played-in by a vigorous bow. to open up and develop all of its harmonics.
SOLD
Violin branded "Rémy", Mirecourt late 19th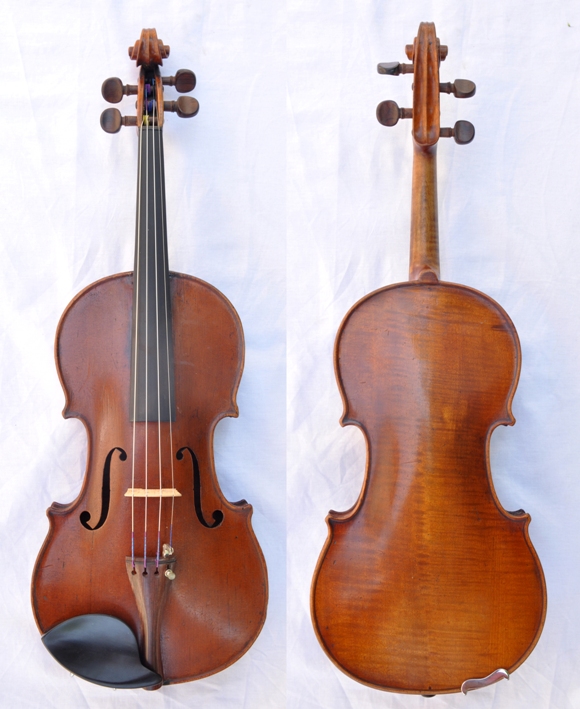 A nice violin, a bit big, with a well balanced sound and rather medium-typed. Probably the most versatile of the instruments I currently propose.
The sound is warm, powerful, rich, and as present in the lower as in the high ranges.
This instrument has got 2 repaired cracks (one of which is a soundpost crack on the belly), otherwise it is in very good condition.
Violin probably Mirecourt, late 19th, portant labeled Stradivarius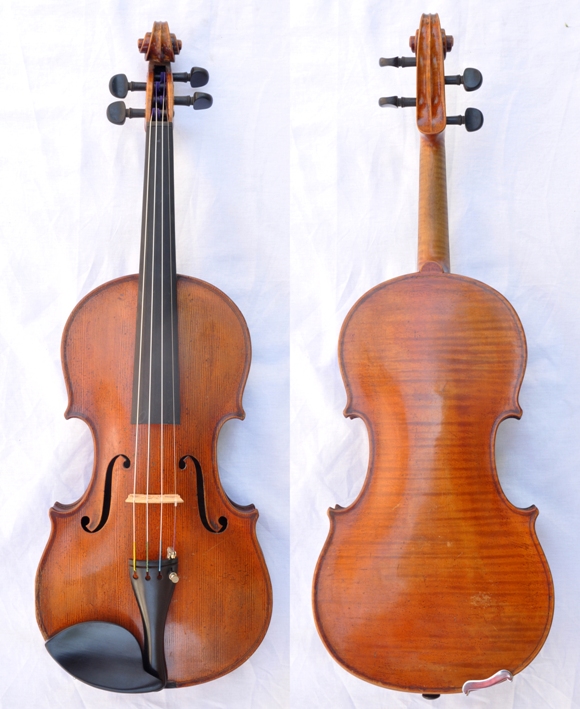 This pretty violin on a big Strad model is a bit strange: Probably made in one of the bif Mirecourt-workshops, it has the characteristics of a master instrument (varnish, wood-choice, pretty scroll).
The sound is well balanced, present spontaneous and powerful.
Otherwise it's in excellent condition. I replaced the original bass bar of somewhat archaic dimensions.
This violin is comparable to signed Mirecourt master instruments – but as it isn't signed and it's not a "pedigree dog", I sell it for a very reasonable price.
SOLD
Violin "Breton".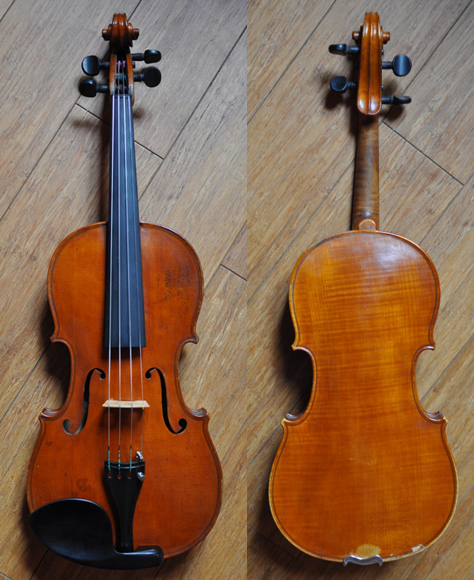 Originally the name of a luthier, this was later a Parisian brand in the late 19th century.
This instrument is massive (not moulded), the archings betray the hand of a skilled craftsman.
The thickness has not been retouched, as it is much more regular and well tapered than on cheaper Mirecourt instruments.
I nevertheless replaced the samewhat smalliosh bassbar and reduced the neck-angle for use with modern strings.
What makes this instrument an interesting bargain is it's (repaired) soundpost crack. These nasty cracks reduce instruments' value by 25 %. Nevertheless, the reparation is life-time guaranteed and doesn't have any negative impact on the sound.
Sound which by the way is full, noble, warm and balanced.
French violin (probably Mirecourt) 20th century "tuned"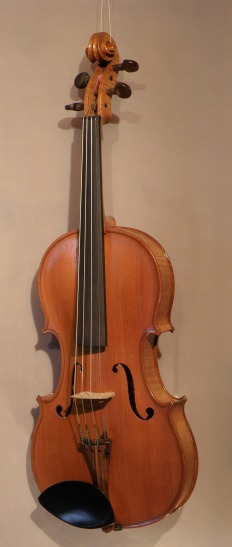 Revised thickness, revised neck-angle and new bass-bar, minor reparation on the button.
This is a nice student-instrument: well-balanced, easy to play.
VIOLAS
Viola 40,6 cm labeled "Dominique Fantin Varese 1954"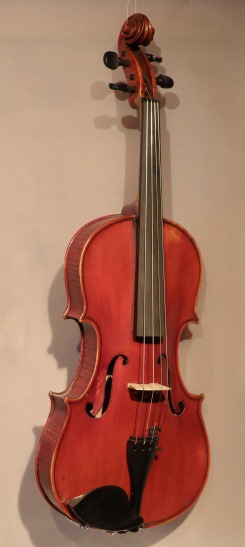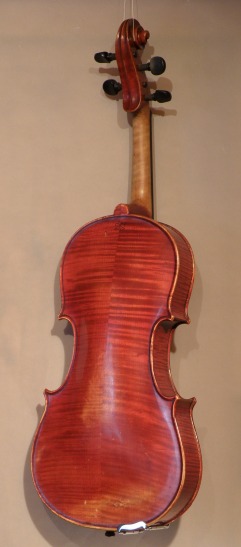 Nice sound round, warm and intimate, easy to play.
I'm not really sure where this instrument really comes from, so I sell it as being a copy. This changes price, but not sound.