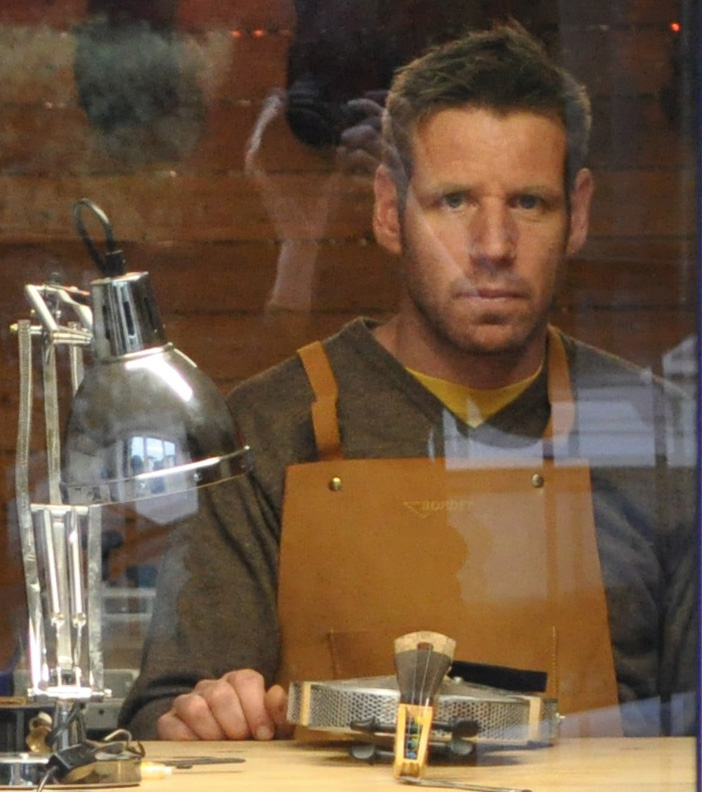 A love from an early age for music and woodworking quite naturally brought me towards violin making once I had finished school.
I've studied violin making from 1996 to 2000 in the Mittenwald school of violin making in Bavaria (Germany). I sincerely thank my friend and former teacher Thomas Wörnle for his efficient, strict and even-handed teaching. He was one of those demanding teachers who praise as easily as they criticize.
In 2000 I had been employed for nine months in the workshop of Marc Rosenstiel, former workshop chief of Etienne Vatelot, in Grenoble. I'm grateful for his Mirecourt approach of violin making: Working quickly and well is not contradictory, but complementary.
From 2001 to 2003 I worked in Paris, part time for Bernard Sabatier and part time for Stephan von Baer. The former, a unique and extraordinary person, has my gratitude for sharing his wisdom about expertise and even more so about life! The latter will be remembered for having refined my stylistic sense of classical violin making, and for having been an example of all things I do not want to do or become on a professional as well as on a personal level.
After Paris, my road led me to the Southwest of France, where I worked for three years for Pierre-Yves Dalle-Carbonare, in Toulouse. I thank him for the great workshop atmosphere, his openness to different projects and for his human integrity. 
Finally, in 2006, I settled down in my own workshop. After having obtained my master craftsman title in Germany in spring 2007, I moved to another village near Toulouse and opened my workshop In Villemur-sur-Tarn.
In 2012, after taking nearly a year's sabbatical off work, I moved once again to another village, to Bondigoux. For five years, I had a double activity there, tending a B&B at the same time as running my workshop. Since I began straying from the beaten track, my perseverance seemed to pay off, and my reputation grew, so more and more musicians came to trust me for the making of special orders / prototypes.
A notable project which takes an ever growing space in my creative work is the development of the Zef, a new concept of electric bowed instruments, developed since 2015 with my former customer and present associate Aurélien Bertrand. Work on the Zef allowed me to make the link between my experience in classical violin making, conception and acoustic understanding, and a new material which is the aluminum the Zef is made from, while deepening my understanding of computer assisted manufacturing.
In 2017, I moved once more, to Toulouse this time, to be closer to this hotbed of musical creation and my customers.