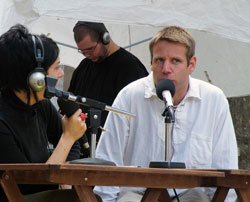 It is no secret that nowadays, the brand is at least as important as the product. And as an independent craftsman, I sort of am the brand, whether I like it or not.
Resigned to the fact that the musician, the « customer » will always search for the luthier behind the violin (or Neolin), I finally will write a few lines about myself, which might permit you to find yourselves some affinity – maybe identify yourselves – with me, the brand-man. Or maybe these lines will repel you and convince you once and for all that I am a crazy fool and that my work is pure sacrilege.
To this end, I resist the temptation to invent myself a personality which isn't really mine. But maybe this promise of authenticity is just part of the marketing, who knows?
Excited child, solitary adolescent, self-taught composer, racing cyclist without racing license, immigrant, heir, lover of old stone and occasional renovator, father every other week, apprentice author and finally rebellious luthier, I have always steered clear of the beaten track and the mainstream view.
I make the most of the chance to do work I love, work which is demanding both of my body and of my spirits, and which permits me to be my own boss, while refuting the idea that one's profession is the cornerstone of an accomplished life, the key element by which a human being should be defined. As if the (French) question: « What do you do in your life (for a living) ? » could only tolerate the mention of your job / craft as an answer…
So before work, I cherish love, friendship, and of course my two half-time children. I love nature and animals, actually all the world around us which permits us to recognize that we are each of us, just a tiny and completely insignificant part of a greater whole. With the passing years, and after great endeavors, I also acquired the skill of doing nothing, a marvellous occupation which I strongly recommend. In consequence, today, I have an « on/off » operational mode. Either, I idly watch the days go by, or I get (over)excited in the workshop, renovating houses (I'm on my fourth) or on another project which temporarily captures my attention and passion.
As to the most frequently asked question: No, I do not play the violin myself. Or just some scales to get an idea of the strengths and weaknesses of a given instrument, as is the case for many violin makers. I did learn the 'cello in my youth, which I stopped long ago, lacking time and motivation, but I do play the piano occasionally. To be honest, my great regret is to have had my hearing and musical expression short-circuited by early sight-reading lessons, which unfortunately made my suggestible child's brain a slave to the score. This is one of the reasons why I turned away from the classical approach to the violin. The only way to rid myself of the score is to write it myself.
Sport takes also an important place in my life – for me cycling is a means to challenge and surpass myself.
Concerning music, I share the taste of Gilles Apap: « All music is born equal ».
Talking about music, my two idols are Ludwig van Beethoven and Jacques Brel. For their music, of course, but even more so for their profound conviction that life is a struggle for one's ideals. With the latter, I share a deep aversion to the bourgeoisie and especially the kowtowing to money.